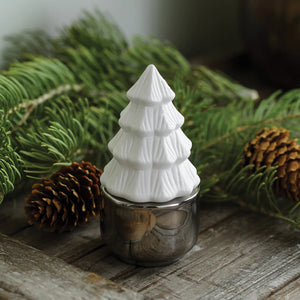 A white porcelain pine tree sits atop a silver chrome base for a clean, modern feel that carries the holiday spirit throughout the whole year.

Porcelain Essential Oil Diffusers can be filled with 100% pure essential oils, 100% fragrance oils or with water and oil to diffuse fragrance that lasts 2 weeks or more. A porcelain botanical rests on a ceramic base to bring a natural beauty to your space as you enjoy the aromatherapy benefits of 100% pure essential oils or the fun smelling favourited fragrances. 
15 ml bottle of 100% pure, therapeutic grade Peppermint Essential Oil is included .
Essential oils travel up the wick and into the porcelain top to be diffused.
When filled with 15 ml of essential oil, the diffuser will provide fragrance for up to 2 weeks.
Can be used with any essential oils or fragrance oils.
A convenient, low maintenance way to enjoy aromatherapy in your home on a continual basis.
When using fragrance oil, 2.5ml oil : 12.5ml water is recommended. You can use more oil if required a stronger scent throw.