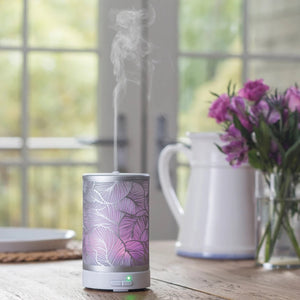 THE SILVERLEAF ULTRASONIC AROMA DIFFUSER
A delicate leaf pattern and matte silver finish make the Silverleaf Medium Diffuser an elegant home decor piece.
The Silverleaf Ultrasonic Aroma Diffuser has a few key features.
Diffuse a refreshing mist of water and essential oils for aromatherapy benefits and natural fragrance that can enhance your mood.
OR - Enjoy with your favourite fragrance oils. 
Features two mist modes for up to 8 hours of use.
8 LED colours, an auto shut-off feature and 100 ml capacity.
When using the Silverleaf Ultrasonic Aroma Diffuser use 100% pure essential oils.
Add up to 5 drops of essential oils per 100 ml of water, replace the decorative sleeve, switch the diffuser on and enjoy a spa-like aromatherapy experience in your own home.