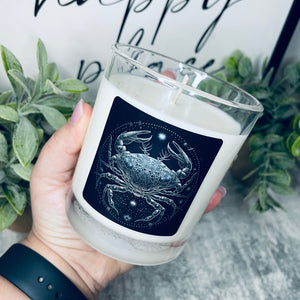 Cancer (June21-July22) Zodiac Soy Wax Candle, sure to make your home smell divine. 
Approx Burn Time 48hrs. 
Packaged in a Black Gift Box. Colour cannot always be guaranteed.
Warning: Please always be cautious with an open flame and never leave burning unattended. See Warning Label. 
Wick Care: Try to ensure that your wick is kept to 5mm long at all times. We recommend trimming the wick every 3 hours of burn time. When trimming, always extinguish the flame, let the candle cool down to room temperature, remove any wick debris, and trim the wick before relighting.